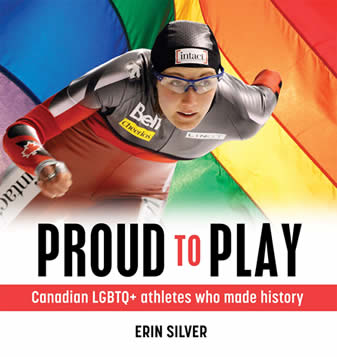 Proud To Play
THE INSPIRING STORIES OF AMAZING CANADIAN LGBTQ ATHLETES…
Featuring outstanding Canadian LGBTQ+ athletes and allies who have made a difference.
The 2018 Winter Olympics marked a milestone for LGBTQ+ athletes. Thirteen athletes out of 3,000 competitors were out and proud — nearly double the number who felt comfortable sharing their sexuality four years earlier at the Sochi Games. Many athletes stay closeted for their entire sports careers, often unable to compete at their highest ability because of the shame and self-doubt they feel in not being true to their orientation or identity. But coming out still means facing harassment from fans, teammates, opponents, and the media, and a lack of sponsorship opportunities. While organizations like You Can Play, the Canadian Olympic Committee and Egale Canada have made progress in recent years in promoting inclusivity at the grassroots and elite sporting levels, there is still much work to be done to ensure all athletes feel safe being their authentic selves.
Athletes profiled include swimmer Mark Tewksbury, rhythmic gymnast Rosie Cossar, paralympian Cindy Ouellet, transgender hockey player Jessica Platt, professional hockey player Brock McGillis, speed skater Anastasia Bucsis (pictured on cover), pairs figure skater Eric Radford, volleyball players Betty Baxter and Christopher Voth and hockey players Angela James and Caroline Ouellette.
Proud to Play Author Interview